Remember that nothing is small in the eyes of God. Do all that you do with love.
You are welcome here just as you are. We know that life is messy and full of challenges. Fortunately, Jesus meets us right where we are and He has the power to heal. We value genuine relationships built upon the grace, mercy, and forgiveness of Jesus Christ. Don't believe in God? Mad at God? Have a hang-up? You are still welcome here. This is a safe place to come, to explore, and to consider the person of Jesus who saves and transforms lives. The St. Didacus Church was made for you. We 're glad you've stopped by to learn what we're all about.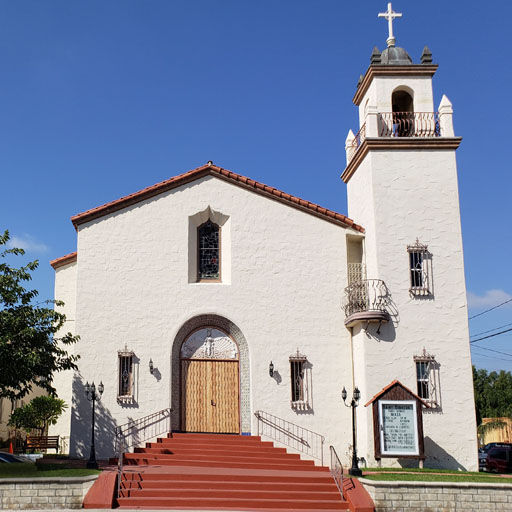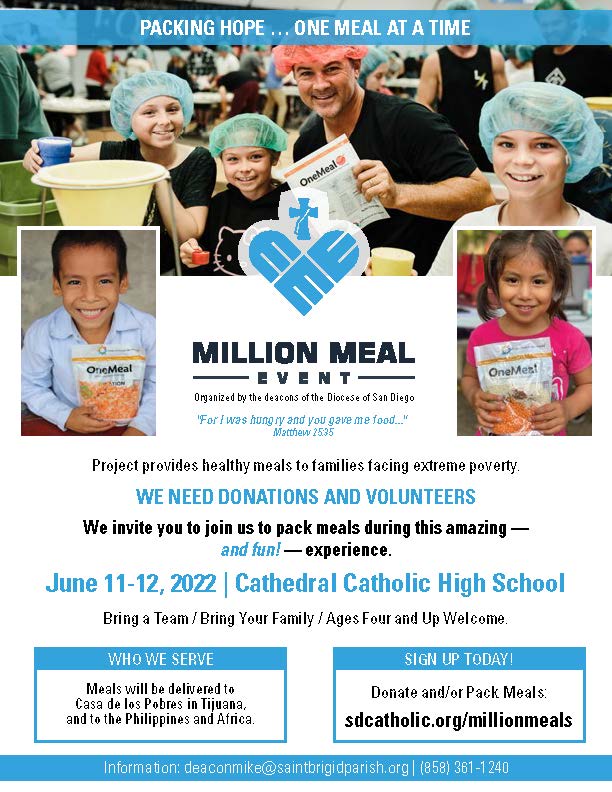 Our diocese's permanent deacons are coordinating an event that aims to provide one million meals to children and    families living in extreme poverty. About half of the meals will go to Casa de los Pobres in Tijuana and the rest to the Philippines and Africa. The deacons are seeking 3,000    volunteers to pack the meals in June and they are raising funds to buy the ingredients. The meals will be packed in three shifts outdoors at Cathedral Catholic HS: Saturday, June 11, from 8:30-11am and from 12:30-3pm; and Sunday, June 12, from 11:30am-2 pm. Volunteers are also needed  to set up the event and to help clean up after it ends. To  register or to make a donation  go to sdcatholic.org/millionmeals, or email deaconmike@saintbrigidparish.org.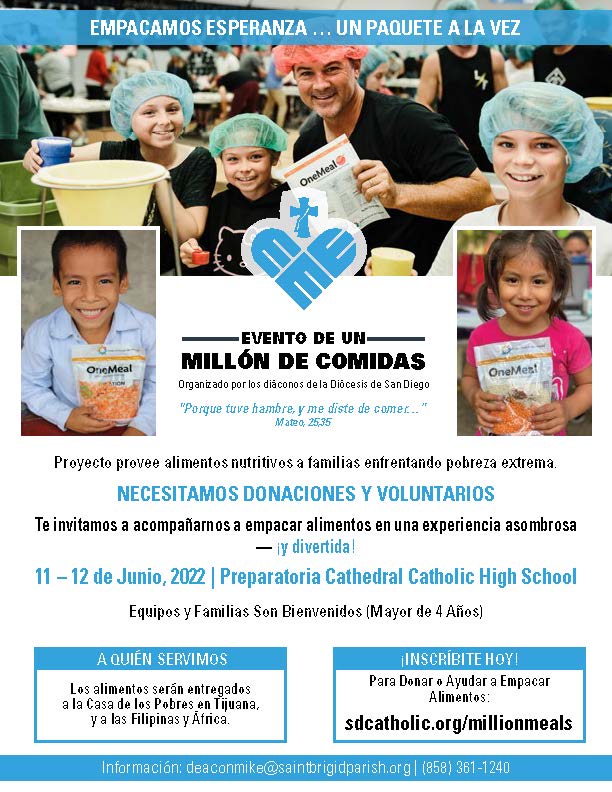 Los alimentos serán entregados a la casa de los Pobres en Tijuana, y a las Filipinas y África. Nuestra meta parroquial es $3500. Puede hacer su donación directamente a la parroquia en nuestro portal WeShare en https://stdidacuschurch.org/online-giving/ o directamente con sobres especiales disponibles en la entrada de la iglesia. Tendremos una colecta especial el 29 de mayo para ayudar a apoyar este evento. Si está interesado en ser voluntario, comuníquese a la oficina parroquial. ¡Muchas Gracias!
St. Didacus Catholic Parish
News & Updates
News, Updates & Announcements
Our Current Bulletin
Download or view our latest Bulletin
Daily Readings
Daily Bible reading


Online Giving/ Donación en Línea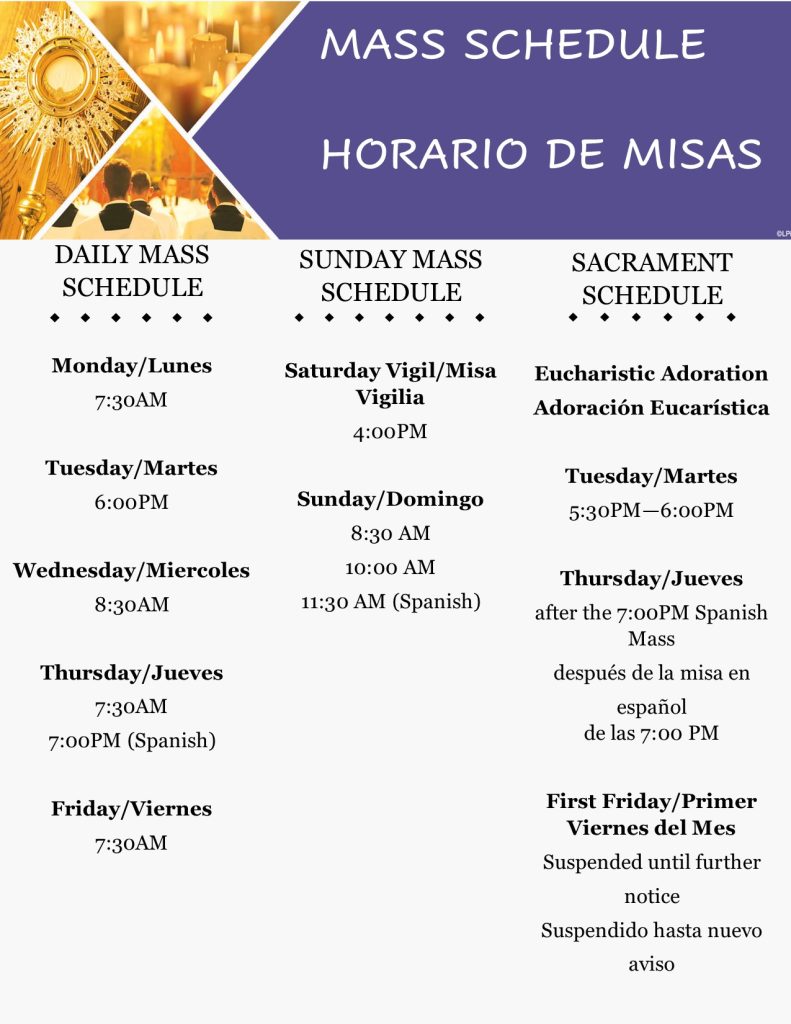 Confessions:
Saturdays at 2:30PM or call the office to make an apppointment.
Sabados a las 2:30PM o con cita.
Mick Hammock was a college Knight at the University of Notre Dame, but his involvement in the Order subsided after graduating. Nearly 10 years later, he was searching for fulfillment and found it in the Knights of Columbus. Now, as grand knight of Council 1349 in San Diego, he brings fresh ideas to his council while helping his brother Knights grow in faith.
As grand knight of San Diego Mother Council 1349, Mick Hammock is bringing men into the Order and helping them to grow in faith.
"Save Time and Donate Online!"
Online Giving is now available for parishioners with WeShare, an easy and convenient way to save time and support the church. Donating is simple, safe, and completely secure.
With WeShare, you can set up a recurring weekly or monthly transaction using your checking, savings, or credit card account. You can decide how much to give to any collection and make changes any time, day or night. Plus, you can leave your checkbook at home on Sundays. Religious Education parents are now able to make payments on the site.
"Give and gifts will be given to you; a good measure, packed together, shaken down, and overflowing, will be poured into your lap. For the measure with which you measure will in return be measured out to you." –Luke 6:38
Frequently Asked Questions:
How can I enroll and start donating? 
It's easy to allocate different amounts for different collections, and view complete, accurate financial records at any time. You can set up a one-time or recurring donation, and can get started in just three easy steps:
Click on the icon image above.
Set up your account.
Choose your payment options and customize your donations.
 Q: Do parishioners receive receipts for their donations?
A: Yes, all contributors enrolled with WeShare can elect to receive receipts via e-mail.
 Q: Is WeShare safe?
A: Yes. WeShare is certified with the Payment Card Industry (PCI) Data Security Standards (DSS) as a Level 1 Service Provider. We implement the safest security standards for online transactions.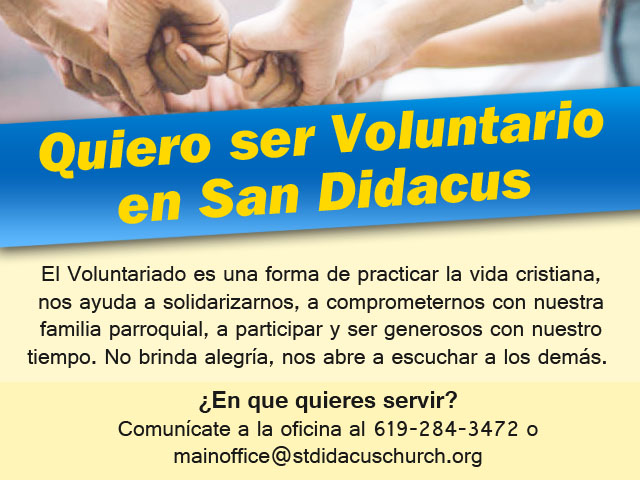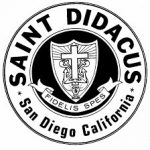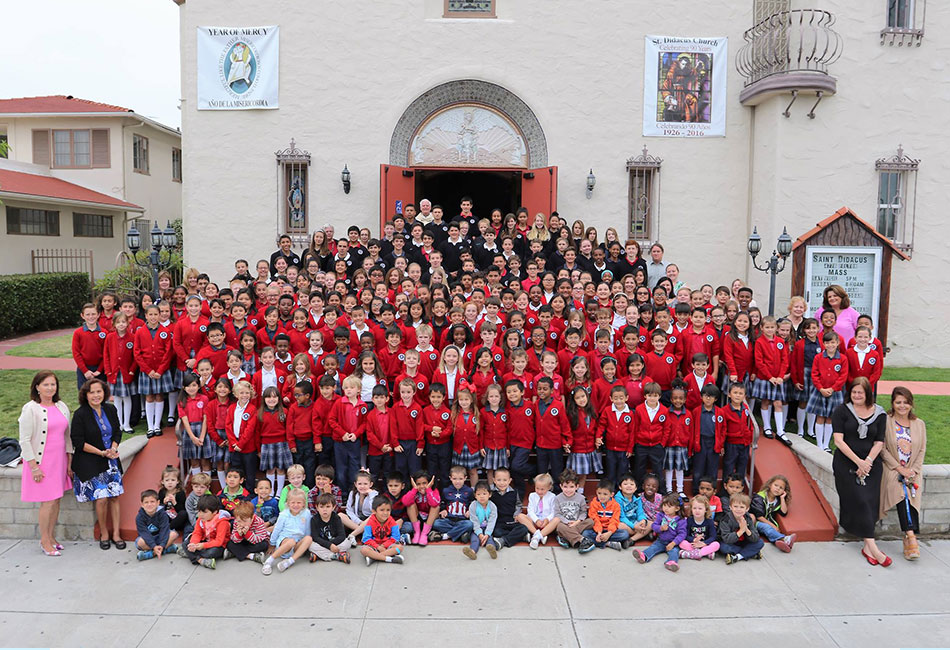 St. Didacus Parish School is a Catholic elementary school engaged with parents, children and community in the ongoing educational development of the student. We empower the student to be spiritually, academically and socially prepared to live today and tomorrow, both morally and effectively. WASC/WCEA Accredited. Stop by and see us for information about registering your children!