The day of Baptism is a day for the whole family to celebrate! For your child, Baptism is the day in which she/he is reborn in Christ Our Savior.
For the parents, godparents, and family, it is a day of great happiness for their child is to receive the faith, which has been handed down from their family members.
For the Christian community, it is a day of promise, welcome, and hope as a new member of the Church received the faith and we reaffirm our Christian heritage. Baptism is the first step in initiation into the sacramental life of faith.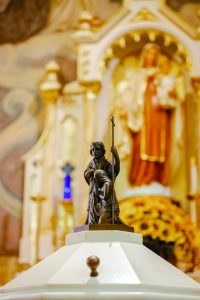 IMPORTANT: Families are required to complete and submit all the necessary forms – to the parish office before scheduling a date for the Baptism. 
We ask that families arrive 15 minutes early on the date/time of Baptism in order that other liturgical commitments will not be disrupted.
Registration: Parents must be active registered parishioners of St. Didacus for at least 3 months. If you live outside the Parish boundaries, you must be practicing your faith and be registered here for at least 3 months prior to the date of baptism.
Interview:  In some circumstances, an interview with the pastor or deacon is required before scheduling the Baptism. Please contact the parish office for more details.
Baptismal Seminar:

  Call the office for more information 

Parents and sponsors (godparents) of the child to be baptized at St. Didacus Parsh are required to watch the Baptism video below:
Sponsors:

A Sponsor (Godparent) must (a) be at least 16-years-old, (b) received the sacraments of Communion and Confirmation, and (c) must be of good moral character, living a life of faith. One sponsor, male or female, is sufficient, but there may be two, one of each sex (Ref. Canon Law #873-874, "Sponsors"). If from another parish, the individual will need to provide a letter from her/his parish stating that the sponsor is in good standing at that parish. If married, they must be married in the church.
Fees:

There is no fee for Baptism. Parents and Godparents are encouraged to make a donation

on the day of the Baptism through the attached envelopes as an expression of gratitude to God

for their child.
Upcoming dates for Baptisms: