2021-2022 Family Catechesis
Catechesis Familiar
Parish Community Religious Education K -8
Somehow, we're still in a period of uncertainty as the pandemic hangs on. The elementary Faith Formation will participate in a combine program hybrid and Family Catechesis to recognize the role of parents as primary educators. The role of the catechist is to facilitate the process of parents forming their children in the faith.  The way we are going to do it is as follows:                            
We are have classes in person until further notice with lessons and homework.
***The role of the Catechist, in addition to leading the children in their lesson at the parish, will be to provide parents with specific handouts and instructions on how to engage their child at home on what the children just covered at the parish as well as instructions on how to come into the parish classroom the next week to help lead the lesson.
 The Catechist serves as a guide and mentor to the parents during this time.  Once a month, the parish holds a communal Family Day.
Within this family catechesis structure, two weeks are given to each doctrine. As such, two doctrines are covered in the four weeks. While children are in the parish session every week, parents come into the parish sessions twice a month. The importance of parents engaging their children at home must be stressed.
For Sacramental Preparation: 1st Reconciliation & 1st Communion is model follows the Family catechesis preparation this year.
Family Catechesis moves us from the classroom to family living rooms – yet not by asking parents to replicate the classroom model at home. Our focus now intentionally develops:
What parents need to begin and sustain conversions of faith.
To help parents trust themselves to be enough to lead these conversations
To accompany families on this life-long journey connected to the faith community.
We look forward to you joining us for this exciting
New School Year!
2021-2022 Catequesis Familiar
Catequesis Familiar de la Comunidad San Didacus K -8
De alguna manera, todavía estamos en un período de incertidumbre mientras la pandemia persiste. La formación de fe de los niños de K a 8 Grado este año será un programa combinado híbrido y Catequesis Familiar para reconocer el papel de los padres como educadores primarios de la fe. El papel del catequista es facilitar el proceso de que los padres formen a sus hijos en la fe.  La forma en que lo vamos a hacer es la siguiente:
Tendremos 5 sesiones del catecismo por medio de Zoom con los niños dándoles tareas. *** El papel del Catequista, además de guiar a los niños en su lección, será proporcionar a los padres folletos e instrucciones específicas sobre cómo involucrar a sus hijos en el hogar en lo que los niños acaban de cubrir en la parroquia, así como instrucciones sobre la clase de la próxima semana para dirigir la lección a estudiar.
Otra semana  el catecismo consiste en que los padres ingresen a la sesión y enseñen junto con el catequista a sus hijos. El catequista sirve como guía y mentor de los padres durante este tiempo. Una vez al mes, tendremos un Día de la Familiar.
Dentro de esta estructura de catequesis familiar, destacamos la importancia para que los padres se involucren más en catequizar a sus hijos en casa. La preparación sacramental para la primera reconciliación y la primera comunión usaremos el mismo modelo de preparación este año.  La Catequesis Familiar es la forma que vamos a adoptar en nuestra comunidad parroquial para el catecismo si algunos padres tienen conflicto con algunos días, trabajaremos con cada caso individualmente.
La Catequesis familiar nos lleva del salón de clases a las salas de estar de la familia, pero no pidiendo a los padres que repitan el modelo del salón de clases en casa. Nuestro enfoque ahora se desarrolla intencionalmente:
Lo que los padres necesitan para comenzar y mantener conversiones de fe.
Ayudar a los padres a confiar en sí mismos para ser suficientes para liderar estas conversaciones.
Acompañar a las familias en este viaje de por vida conectado a la comunidad de fe.
¡Esperamos que se una a nosotros en este emocionante año nuevo!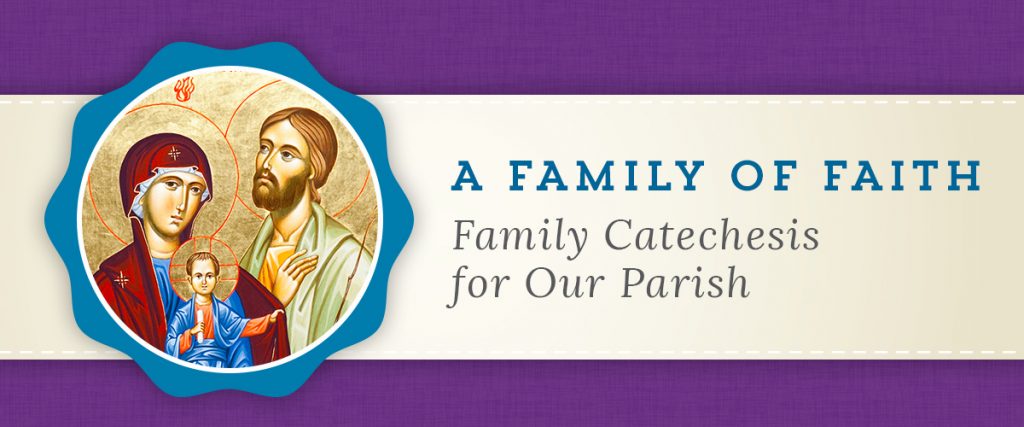 UPDATE: We have updated our Fall Calendar. All Family Catechesis classes are in person on Wednesday's at 5:30 in the Parish Hall until further notice.
Contact Elena for questions regarding
Faith Formation, Confirmation, High School Ministry, and RCIA.