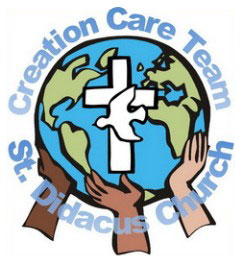 During COVID-19 our meetings have been put on hold, but we hope to get back to our regular meeting schedule in the future: the first Tuesday of the month at 6:30pm. Watch the bulletin for more information on when that may be.
In his encyclical, Laudato si', Pope Francis called us to live out an "integral ecology," which in simple terms means having right relationships with God, other human beings and the good things of the Earth. When one relationship suffers, all the others will suffer as well. In friendship with Christ, we begin to look upon creation in a renewed way. As we care for the environment, we encounter God, and in this encounter we are moved to care for creation. We are reminded of the Pope's insistence on practicing what we preach (and pray), and the need for Christians to be visible witnesses of the care for creation. We are called to an "ecological conversion," which must be rooted in Jesus' invitation to a change in lifestyle, reverence for others and a renewed simplicity of life. These personal transformations pave the way for the work we must do together in order to address the global concerns of our day.
Fall 2021 Trees For Life Campaign
Date: September 11th Tree Planting Workshop
Time: 8:00am-5:00pm
Location:TBD
Cost: $75 per tree (free with financial aid) 
Interested individuals, schools and parishes are invited to begin the process by attending our tree planting workshop on Saturday, Sept. 11, at 9 a.m. (Location to be announced.) The workshop will be taught by Franciscan Brother James Lockman, an expert in landscaping and restoration ecology.
Registration coming soon! Please visit this page again or visit https://www.sdcatholic.org/event/2021-tree-planting-campaign/
Eco-Friendly Tips with Fr. Emmet Farrell
St. Didacus Creation Care Team