Parish News
Catholic Charities Diocese of San Diego is raising funds to help migrant families being released by immigration authorities in our region. These families, many with small children, have traveled long distances to flee extreme conditions that threaten their lives. They have received permission to remain in the U.S. legally while awaiting the outcome of their application for asylum. Catholic Charities is raising funds to help them to travel to unite with family members in the U.S. Donations may be made through this site: Sharejourneysd.org/families

St. Didacus Advent Happenings
Click HERE to see all our Advent Activities this month.

Help Wanted
We are cleaning the Church and preparing for Christmas on Saturday, December 15th at 8am. Everyone is welcome to pitch in and help. It only takes about an hour.

Pastorela
Don't miss the Spanish Choir's Pastorela on Sunday, December 16th at 1pm in the Parish Hall. Even if you don't understand Spanish, you will enjoy this fun play. They will have Mexican food for sale before the performance.

Advent Giving
During Advent we are collecting items for several organizations in Mexico. See the bulletin for a list of needs. Bring your donations to the Parish Office by Wednesday, December 19th.

School Christmas Program
The school's Christmas program is this Tuesday, December 18. Performances will be held at 9:00am and 6:30pm in the school's auditorium. All are welcome to attend.

Posada
Our Parish Posada is on Friday, December 21st at 7pm. Come share in this reenactment of the journey of Mary and Joseph through Bethlehem seeking a place to stay. This is a fun family event, and everyone is welcome.

Help Decorate for Christmas
Help us decorate the Church for Christmas at 12:30pm next Sunday, December 23. It takes about an hour and we could use your help. You are welcome to bring the whole family.

Religious Ed on Break
There will be no Religious Education classes from now until Wednesday, January 9th.

Women of St. Didacus
Gospel and Fellowship
Women of St. Didacus Come Join Us! Together we will draw closer to Christ and Mary through prayerful reading of the Gospels and fellowship with each other. We are meeting the 2nd and 4th Thursdays at 6:30 pm at various members homes. Call Linda (619) 955-3985 or Nancy (619) 203-8108 for more info.

RCIA
What is RCIA? The Rite of Christian Initiation for Adults (RCIA) is the process, established for the universal Church, for individuals to become Catholic and receive the sacraments of initiation—Baptism, Confirmation and the Eucharist. This initiation process also involves the parish community experiencing a renewal of faith as it prepares and welcomes new members into the Church. The Rite speaks of conversion as a "spiritual journey," centered on fostering a deep relationship with Jesus and the Church he founded. RCIA starts in September. We focus on catechesis: learning about the Catholic faith, learning about the parish community, and the liturgical life of the Church.

If you are interested in knowing about our program or know someone who would like to know more about the Catholic faith, contact Elena Platas in the Parish Office at 619-284-3472.

St. Didacus Mental
Health Ministry News
The St. Didacus Mental Health Ministry team has a designated phone number: 619-940-6193
This is a non-emergency line, please call 911 if you have an emergency situation. Please visit the Mental Health Ministry page for more information about our team.

2018 Annual Catholic Appeal
This appeal supports the charitable needs throughout the Diocese of San Diego and our gifts make possible the works that impact so many in our diocese. Please take the time to prayerfully consider how you are able to participate. Click HERE to make your contribution on-line on the Diocese website.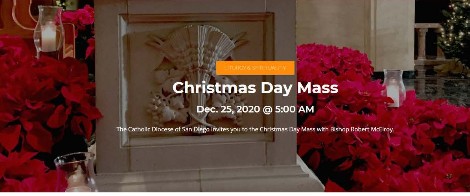 Sign up to receive our parish email!
Loyola Press' Arts and Faith Series looks at Domenico Ghirlandaio's "Preaching of St. John the Baptist," 1490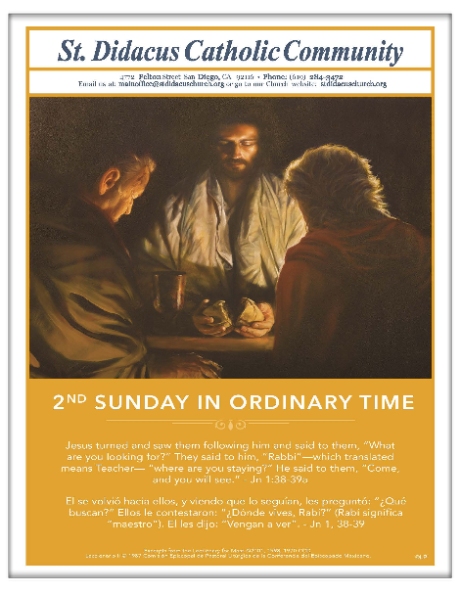 Daily Mass Schedule
| | |
| --- | --- |
| | |
| Monday | 7:30am |
| Tuesday | 6:00pm |
| Wednesday | 8:30am |
| Thursday | 7:30am |
| Friday | 7:30am |
Sunday Mass Schedule
Saturday Vigil

5:00pm

Sunday

8:30am

10:00am

11:30am
(español)
Sacrament Schedule
Eucharisitic Adoration

Wednesday

7:30am - 8:30am

Saturday
First Friday

3:30pm - 5:00pm
8:00am - 9:00am

Confessions

Saturday

3:30pm
& By Appt.
St Didacus Parish School
St. Didacus Parish School is a Catholic elementary school engaged with parents, children and community in the ongoing educational development of the student. We empower the student to be spiritually, academically and socially prepared to live today and tomorrow, both morally and effectively. WASC/WCEA Accredited. Stop by and see us for information about registering your children!

Mrs. Christine Dean - Principal
4630 34th Street, San Diego CA 92116
(619) 284-8730