Parish News
Catholic Charities Diocese of San Diego is raising funds to help migrant families being released by immigration authorities in our region. These families, many with small children, have traveled long distances to flee extreme conditions that threaten their lives. They have received permission to remain in the U.S. legally while awaiting the outcome of their application for asylum. Catholic Charities is raising funds to help them to travel to unite with family members in the U.S. Donations may be made through this site: Sharejourneysd.org/families

Altar Server Training
We will have training for new altar servers on Wednesday, January 16th at 3pm in the Church.

Walk for Life
Join more than 4000 families and individuals in a celebration of life by participating in the 6th Annual Walk for Life on Saturday, January 19th. We are hoping to have a team of walkers representing St. Didacus Parish. Call the Parish Office for more info.

Women of St. Didacus
Gospel and Fellowship
Women of St. Didacus Come Join Us! Together we will draw closer to Christ and Mary through prayerful reading of the Gospels and fellowship with each other. We are meeting the 2nd and 4th Thursdays at 6:30 pm at various members homes. Call Linda (619) 955-3985 or Nancy (619) 203-8108 for more info.

RCIA
What is RCIA? The Rite of Christian Initiation for Adults (RCIA) is the process, established for the universal Church, for individuals to become Catholic and receive the sacraments of initiation—Baptism, Confirmation and the Eucharist. This initiation process also involves the parish community experiencing a renewal of faith as it prepares and welcomes new members into the Church. The Rite speaks of conversion as a "spiritual journey," centered on fostering a deep relationship with Jesus and the Church he founded. RCIA starts in September. We focus on catechesis: learning about the Catholic faith, learning about the parish community, and the liturgical life of the Church.

If you are interested in knowing about our program or know someone who would like to know more about the Catholic faith, contact Elena Platas in the Parish Office at 619-284-3472.

St. Didacus Mental
Health Ministry News
The St. Didacus Mental Health Ministry team has a designated phone number: 619-940-6193
This is a non-emergency line, please call 911 if you have an emergency situation. Please visit the Mental Health Ministry page for more information about our team.

2018 Annual Catholic Appeal
This appeal supports the charitable needs throughout the Diocese of San Diego and our gifts make possible the works that impact so many in our diocese. Please take the time to prayerfully consider how you are able to participate. Click HERE to make your contribution on-line on the Diocese website.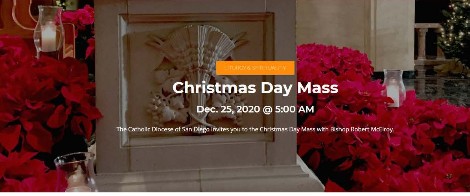 Sign up to receive our parish email!
Daily Mass Schedule
| | |
| --- | --- |
| | |
| Monday | 7:30am |
| Tuesday | 6:00pm |
| Wednesday | 8:30am |
| Thursday | 7:30am |
| Friday | 7:30am |
Sunday Mass Schedule
Saturday Vigil

5:00pm

Sunday

8:30am

10:00am

11:30am
(español)
Sacrament Schedule
Eucharisitic Adoration

Wednesday

7:30am - 8:30am

Saturday
First Friday

3:30pm - 5:00pm
8:00am - 9:00am

Confessions

Saturday

3:30pm
& By Appt.
St Didacus Parish School
St. Didacus Parish School is a Catholic elementary school engaged with parents, children and community in the ongoing educational development of the student. We empower the student to be spiritually, academically and socially prepared to live today and tomorrow, both morally and effectively. WASC/WCEA Accredited. Stop by and see us for information about registering your children!

Mrs. Christine Dean - Principal
4630 34th Street, San Diego CA 92116
(619) 284-8730