Parish News
"Care-Prayer-Support Gathering"
Everyone is welcome to attend the Care-Prayer-Support Gathering, on Sunday, March 1st at 7pm in the Parish Hall. The St. Didacus Mental Health Ministry invites you to experience the comfort and encouragement of God's grace that is possible when you connect and pray with others.

No Religious Ed on Wednesday
There will be no Religious Education classes on Wednesday so that students may attend an Ash Wednesday service.

Lent Soup Supper & Taize Prayer
Join us for our first Soup night of Lent on Friday, February 28th. Our soup dinner is at 6pm in the Parish Hall and will be provided by the Altar Society. Following dinner at 7pm, we will have a Taize Prayer Service with the Choir. Everyone is welcome.

"Conscience, Candidates and Discipleship in Voting"
Bishop McElroy recently gave a talk entitled, "Conscience, Candidates and Discipleship in Voting." It is a good reflection for Catholics during this election season. Click HERE to read his speech.

School Auction and Dance
St. Didacus School's Annual Auction and Dance is on Saturday, February 29th. For more information, contact the school.

Many Thanks from the Altar Society
The Altar Society would like to thank everyone who donated shoes over the past few months for their shoe drive. They collected 1,250 pairs of shoes. When the shoes arrive at their destination, we will receive a check and the money raised will be used for the needs of the parish.

Women of St. Didacus
Gospel and Fellowship
Women of St. Didacus Come Join Us! Together we will draw closer to Christ and Mary through prayerful reading of the Gospels and fellowship with each other. We are meeting the 2nd and 4th Thursdays at 6:30 pm at various members homes. Call Linda (619) 955-3985 or Nancy (619) 203-8108 for more info.

Sexual Abuse Compensation Program
This week, the Independent Victim Compensation Program (ICP), a program sponsored by the Diocese of San Diego to assist victim-survivors who were abused as minors by priests of this diocese, began accepting applications. The ICP is independent and not controlled by the Church. There is no time limit on when the abuse may have taken place. The program will consider all claims, regardless of how long ago the abuse occurred. No attorney is necessary and there are no fees of any kind. U.S. Residency is also not required. For more information click HERE go to their website www.CaliforniaDiocesesICP.com

LEARN MORE ABOUT THE EUCHARIST
Bishop Robert Barron has a collection of videos, homilies, articles, and podcasts on the Eucharist on his Word of Fire website: HERE.

Rights & Responsibilities of Parents/Guardians of Children in Public Schools Regarding Sexual Health Education
The California Catholic Conference of Bishops has composed a concise guide for Catholic Parents outlining their rights and responsibilities pertaining to the "California Healthy Youth Act" mandated by the state for all public schools. We will have a link on our parish website to this important information. If you have students in public school, this will assist you to navigate the law and protect your children. For more info in English click HERE. For more info in Spanish click HERE.

Bishop McElroy expands Diocese's fight against the sexual abuse of children
Learn more about the historic gathering of Diocesan employees last week and Bishop McElroy's newest measures to eliminate the sexual abuse of minors. Click HERE.

READ POPE FRANCIS'S NEW EXHORTATION
Pope Francis's new Post-Synodal Apostolic Exhortation Christus Vivit calls to "all Christian young people" and the People of God, including pastors and the faithful, and urges them to seek the youthful newness of life in Christ! Read it online by clicking HERE.

CHECK OUT THIS VIDEO!
The Creation Care Ministry of the Office of Life, Peace and Justice of the Diocese of San Diego has produced a 6 ½ minute video promoting the use of Biodegradable products. We are implementing this in our parish - learn more by clicking HERE.

Want to know more about Priestly Vocations?
The Office of Priestly Vocations offers these videos from a series of vocation stories by our seminarians. Marc Gandolfo shares his vocation story and its connection to his passion for baseball HERE. Chris Bongato shares how his search for something deeper in life eventually led him to the program for priestly formation HERE.

Your help is needed
Catholic Charities Diocese of San Diego is raising funds to help migrant families being released by immigration authorities in our region. These families, many with small children, have traveled long distances to flee extreme conditions that threaten their lives. They have received permission to remain in the U.S. legally while awaiting the outcome of their application for asylum. Catholic Charities is raising funds to help them to travel to unite with family members in the U.S. Donations may be made through this site: Sharejourneysd.org/families

Mental Health Ministry
The St. Didacus Mental Health Ministry team has a designated phone number: 619-940-6193
This is a non-emergency line, please call 911 if you have an emergency situation. Please visit the Mental Health Ministry page for more information about our team.

St. Didacus Catholic Community — Please help us reach our parish goal of $20,000 for this year's diocese-wide Annual Catholic Appeal — Thank you for generously supporting our retired priests, seminarians, faith formation, young adults and many others!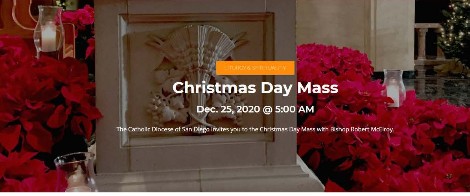 Sign up to receive our parish email!
Daily Mass Schedule
| | |
| --- | --- |
| | |
| Monday | 7:30am |
| Tuesday | 6:00pm |
| Wednesday | 8:30am |
| Thursday | 7:30am |
| Friday | 7:30am |
Sunday Mass Schedule
Saturday Vigil

5:00pm

Sunday

8:30am

10:00am

11:30am
(español)
Sacrament Schedule
Eucharisitic Adoration

Wednesday

7:30am - 8:30am

Saturday
First Friday

3:30pm - 5:00pm
8:00am - 9:00am

Confessions

Saturday

3:30pm
& By Appt.
St Didacus Parish School
St. Didacus Parish School is a Catholic elementary school engaged with parents, children and community in the ongoing educational development of the student. We empower the student to be spiritually, academically and socially prepared to live today and tomorrow, both morally and effectively. WASC/WCEA Accredited. Stop by and see us for information about registering your children!

Mrs. Christine Dean - Principal
4630 34th Street, San Diego CA 92116
(619) 284-8730