Parish News
If you haven't returned to Mass yet, take a look at this video the Diocese has put together to show you what to expect. Click HERE to view it in English and Spanish.

Free Online Course of the New Evangelization
We hear a lot about the New Evangelization but few have explored the depths of church teaching on this topic. This summer, Sacred Heart Major Seminary is offering a free short interactive online course called "Theology of the New Evangelization" featuring a number of Sacred Heart faculty, including Ralph Martin, Mary Healy, Robert Fastiggi and others. This course will cover the teachings of Popes Paul VI, John Paul II, Benedict XVI, and Francis on the New Evangelization with both a theological and practical focus.The course starts July 6th. Register for this wonderful opportunity to grow by visiting: shms.edu/ne

Mental Health Ministry
During this time of uncertainty and change, you can reach out to the St. Didacus Mental Health Ministry for support. Please reach out to them by phone at (619) 940-6193. This is a non-emergency line, please call 911 if you have an emergency situation.They may also be contacted by email at saintdidacusmhm@gmail.com. Please visit the Mental Health Ministry page for more information about our team.

Christ in our Neighborhood
It's not too late! Christ in Our Neighborhood is a program developed by Bishop John Dolan to help groups facilitate
a deeper look into the readings and Gospel for the upcoming Sunday. It's easier than ever to participate because you don't have to leave your home. It's all done through ZOOM. Deacon Dino is leading a group that meets on Zoom on Saturdays at 11am. His wife, Kari Lorraine, is hosting a group on Mondays at 7:30pm. Other groups are available at different times in English and Spanish. Visit www.christ-ion.com to register. This session concludes the week of August 2nd. This is a great way to stay connected during the summer months.

Women of St. Didacus
Gospel and Fellowship
Women of St. Didacus Come Join Us! Together we will draw closer to Christ and Mary through prayerful reading of the Gospels and fellowship with each other. We are meeting the 2nd and 4th Thursdays at 6:30 pm at various members homes. Call Linda (619) 955-3985 or Nancy (619) 203-8108 for more info.

Sexual Abuse Compensation Program
For more information click HERE go to the website www.CaliforniaDiocesesICP.com

Rights & Responsibilities of Parents/Guardians of Children in Public Schools Regarding Sexual Health Education
The California Catholic Conference of Bishops has composed a concise guide for Catholic Parents outlining their rights and responsibilities pertaining to the "California Healthy Youth Act" mandated by the state for all public schools. We will have a link on our parish website to this important information. If you have students in public school, this will assist you to navigate the law and protect your children. For more info in English click HERE. For more info in Spanish click HERE.


WELCOME, FR. REY!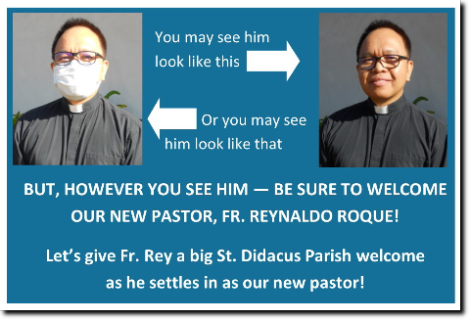 Gracious and loving God, we thank you for the gift of our priests.
Through them, we experience your presence in the sacraments.

Help our priests to be strong in their vocation.
Set their souls on fire with love for your people.

Grant them the wisdom, understanding, and strength they need to follow in the footsteps of Jesus.
Inspire them with the vision of your Kingdom.

Give them the words they need to spread the Gospel.
Allow them to experience joy in their ministry.

Help them to become instruments of your divine grace.

We ask this through Jesus Christ, who lives and reigns as our Eternal Priest. Amen.


Resumption of Public Masses at St. Didacus


We are happy to be celebrating public Masses and are following these Diocesan and County approved guidelines to keep you safe and healthy. To read the guidelines click here: ENGLISH or SPANISH.

Schedule of Masses:
Weekdays:
Monday 7:30 AM
Tuesday 6:00 PM with Novena to Mary before Mass
Wednesday 8:30 AM with Adoration at 7:30 AM
Thursday 7:30 AM // Thursday 7:00 PM Spanish Mass
Friday 7:30 AM
Weekends:
Saturday 5:00 PM Vigil Mass
Sunday NEW TIME: 8:00 AM and 10:00 AM English, NEW TIME: 12:00 PM Spanish
Confessions: Saturday 3:30 PM - 4:30 PM Outdoor/ or by appointment

We will be limited to 100 people per Mass per the County of San Diego guidelines. On Sundays we will be able to offer an overflow into the Parish Hall where you will be able to watch the Mass being live-streamed from the Church. A Eucharistic Minister will bring Communion to those in the hall. We ask your patience in following these guidelines.

Sign up to receive our parish email!
Daily Mass Schedule
| | |
| --- | --- |
| | |
| Monday | 7:30am |
| Tuesday | 6:00pm |
| Wednesday | 8:30am |
| Thursday | 7:30am |
| Friday | 7:30am |
Sunday Mass Schedule
Saturday Vigil

5:00pm

Sunday

8:00am

10:00am

12:00pm
(español)
Sacrament Schedule
Eucharisitic Adoration

Wednesday

7:30am - 8:30am


First Friday


8:00am - 9:00am

Confessions

Saturday

3:30pm
& By Appoitment
St Didacus Parish School
St. Didacus Parish School is a Catholic elementary school engaged with parents, children and community in the ongoing educational development of the student. We empower the student to be spiritually, academically and socially prepared to live today and tomorrow, both morally and effectively. WASC/WCEA Accredited. Stop by and see us for information about registering your children!

Mrs. Christine Dean - Principal
4630 34th Street, San Diego CA 92116
(619) 284-8730