Parish News
VBS NEWS:
All Vacation Bible School volunteers are asked to attend the meeting on Tuesday, July 16 at 10am in the Parish Hall.

Registration is now OPEN for:
Confirmation, Religous Ed, RCIA and Vacation Bible School (July 29-August 2). Come to the Parish Office to register.

Read the Article:
Entertaining Angels: Hospitality in Luke and Acts by Andrew Arterbury by clicking HERE.

Bishop McElroy announces the creation of the Independent Victims' Compensation Program
This program is designed to offer compensation to victims of priestly sex abuse. Click HERE to visit the Diocese website for more information.

READ POPE FRANCIS'S NEW EXHORTATION
Pope Francis's new Post-Synodal Apostolic Exhortation Christus Vivit calls to "all Christian young people" and the People of God, including pastors and the faithful, and urges them to seek the youthful newness of life in Christ! Read it online by clicking HERE.

CHECK OUT THIS VIDEO!
The Creation Care Ministry of the Office of Life, Peace and Justice of the Diocese of San Diego has produced a 6 ½ minute video promoting the use of Biodegradable products. We are implementing this in our parish - learn more by clicking HERE.

Want to know more about Priestly Vocations?
The Office of Priestly Vocations offers these videos from a series of vocation stories by our seminarians. Marc Gandolfo shares his vocation story and its connection to his passion for baseball HERE. Chris Bongato shares how his search for something deeper in life eventually led him to the program for priestly formation HERE.

2019 Annual Catholic Appeal
This appeal supports the charitable needs throughout the Diocese of San Diego. Please click HERE to make your contribution on-line on the Diocese website and help us reach our parish goal of $22,000 for this year's diocese-wide appeal — Thank you for generously supporting our retired priests, seminarians, faith formation, young adults and many others! You may also use the Response Cards in the church pews to make your pledge and return it in the weekend collection or to the parish office.

Your help is needed
Catholic Charities Diocese of San Diego is raising funds to help migrant families being released by immigration authorities in our region. These families, many with small children, have traveled long distances to flee extreme conditions that threaten their lives. They have received permission to remain in the U.S. legally while awaiting the outcome of their application for asylum. Catholic Charities is raising funds to help them to travel to unite with family members in the U.S. Donations may be made through this site: Sharejourneysd.org/families

Women of St. Didacus
Gospel and Fellowship
Women of St. Didacus Come Join Us! Together we will draw closer to Christ and Mary through prayerful reading of the Gospels and fellowship with each other. We are meeting the 2nd and 4th Thursdays at 6:30 pm at various members homes. Call Linda (619) 955-3985 or Nancy (619) 203-8108 for more info.

Mental Health Ministry
The St. Didacus Mental Health Ministry team has a designated phone number: 619-940-6193
This is a non-emergency line, please call 911 if you have an emergency situation. Please visit the Mental Health Ministry page for more information about our team.

2019 Annual Catholic Appeal
This appeal supports the charitable needs throughout the Diocese of San Diego and our gifts make possible the works that impact so many in our diocese. Please take the time to prayerfully consider how you are able to participate. Click HERE to make your contribution on-line on the Diocese website.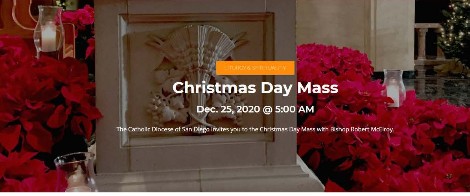 Sign up to receive our parish email!
Daily Mass Schedule
| | |
| --- | --- |
| | |
| Monday | 7:30am |
| Tuesday | 6:00pm |
| Wednesday | 8:30am |
| Thursday | 7:30am |
| Friday | 7:30am |
Sunday Mass Schedule
Saturday Vigil

5:00pm

Sunday

8:30am

10:00am

11:30am
(español)
Sacrament Schedule
Eucharisitic Adoration

Wednesday

7:30am - 8:30am

Saturday
First Friday

3:30pm - 5:00pm
8:00am - 9:00am

Confessions

Saturday

3:30pm
& By Appt.
St Didacus Parish School
St. Didacus Parish School is a Catholic elementary school engaged with parents, children and community in the ongoing educational development of the student. We empower the student to be spiritually, academically and socially prepared to live today and tomorrow, both morally and effectively. WASC/WCEA Accredited. Stop by and see us for information about registering your children!

Mrs. Christine Dean - Principal
4630 34th Street, San Diego CA 92116
(619) 284-8730