Parish News
A New Pastor for
St. Didacus Parish
Bishop McElroy has appointed Fr. Enrique Fuentes as pastor of St. Didacus effective July 1, 2017. Fr. Enrique is currently serving at St. Mary, Star of the Sea in Oceanside, also a bilingual parish with a parish school. We look forward to welcoming him to our parish community in July!

Religious Education's
May Crowning
You are invited to attend Religious Education's May Crowning. All students and their families, please note that we will not be meeting at the school on this day. Please come directly to the Church.


5th Annual KERMES!
Thank you for your support of our 5th Annual Kermes! We enjoyed gathering as a parish community and raising money for our church. Thank you to all the volunteers for giving their time and resources to make this such a fun event. We were able to raise $3067 that will go towards the repair of our stain glass windows.

Altar Society
Rummage Sale
Mark your calendars! The Altar Society's Annual Rummage sale begins Friday, June 2nd through Sunday, June 4th. If you would like to donate items, please drop them off at the Parish Hall Tuesday, May 30th through Thursday, June 1st from 9am-5pm.

Rock-n-Roll Marathon
The Rock and Roll Marathon comes through Normal Heights on Sunday, June 4th. Click HERE to see the flyer for the route available to get to Church.

Annual Catholic
Appeal Update
Thank you to everyone who has contributed to the Diocese of San Diego's Annual Catholic Appeal. We invite everyone who hasn't pledged yet to prayerfully consider how you can support this year's appeal. Make a donation on the Diocese's website by clicking HERE.

St. Didacus Mental
Health Ministry News
The St. Didacus Mental Health Ministry team has a designated phone number: 619-940-6193
This is a non-emergency line, please call 911 if you have an emergency situation. Please visit the Mental Health Ministry page for more information about our team.

Sign up to receive our parish email!
The United States Conference of Catholic Bishops' call for special Mother's Day collection to complete Trinity Dome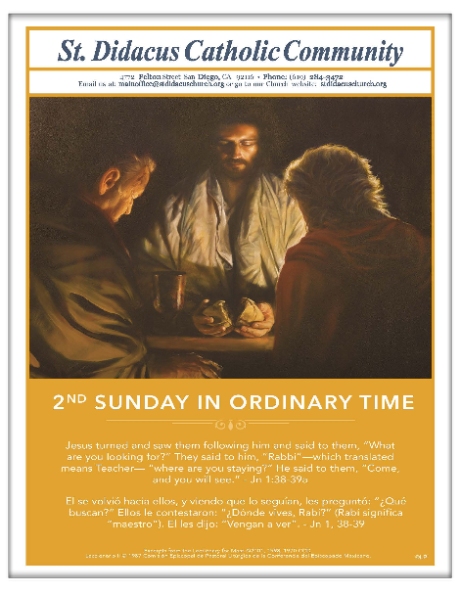 Daily Mass Schedule
| | |
| --- | --- |
| | |
| Monday | 7:30am |
| Tuesday | 6:00pm |
| Wednesday | 8:30am |
| Thursday | 7:30am |
| Friday | 7:30am |
Sunday Mass Schedule
Saturday Vigil

5:00pm

Sunday

8:30am

10:00am

11:30am
(español)
Sacrament Schedule
Eucharisitic Adoration

Wednesday

7:30am - 8:30am

Saturday
First Friday

3:30pm - 5:00pm
8:00am - 9:00am

Confessions

Saturday

3:30pm
& By Appt.
St Didacus Parish School
St. Didacus Parish School is a Catholic elementary school engaged with parents, children and community in the ongoing educational development of the student. We empower the student to be spiritually, academically and socially prepared to live today and tomorrow, both morally and effectively. WASC/WCEA Accredited. Stop by and see us for information about registering your children for the 2017-2018school year!

Mrs. Maria Tollefson - Principal
4630 34th Street, San Diego CA 92116
(619) 284-8730