Parish News
A New Pastor for
St. Didacus Parish
Bishop McElroy has appointed Fr. Enrique Fuentes as pastor of St. Didacus effective July 1, 2017. Fr. Enrique is currently serving at St. Mary, Star of the Sea in Oceanside, also a bilingual parish with a parish school. We look forward to welcoming him to our parish community in July!

Religious Education
Class resumes this week on Wednesday, April 26th at 5:30pm at the school.

1st Communion NEWS
Parent Meetings
English: Tuesday, April 25th at 7pm at the School
Spanish: Wednesday, April 26th at 5:30pm at the School
First Communion Retreat
Saturday, May 6th 10am-noon in the Parish Hall
1st Communion
Saturday, May 13th
10:00am - for the school
1:00pm Bilingual for Religious Ed

St. Didacus School
Annual Dinner and Auction
Don't forget about the School's Annual Dinner and Auction, Moonlight in Marrakech. Get your raffle tickets turned in by Friday, April 28th!

Confirmation News
Confirmation rehearsal is on Thursday, April 27th at 7pm. All students are required to attend the rehearsal with their sponsors. Confirmation is on Saturday, April 29th at 5pm, but students must arrive no later than 4pm.

Annual Catholic Appeal Update
Thank you to everyone who has contributed to the Diocese of San Diego's Annual Catholic Appeal. We are slowly working toward reaching our parish goal of $22,000. We invite everyone who hasn't pledged yet to prayerfully consider how you can support this year's appeal. Make a donation on the Diocese's website by clicking HERE.

St. Didacus Mental
Health Ministry News
The St. Didacus Mental Health Ministry team has a designated phone number: 619-940-6193
This is a non-emergency line, please call 911 if you have an emergency situation. Please visit the Mental Health Ministry page for more information about our team.

Sign up to receive our parish email!
Visit the United States Conference of Catholic Bishops' website to learn more about how to pray the Rosary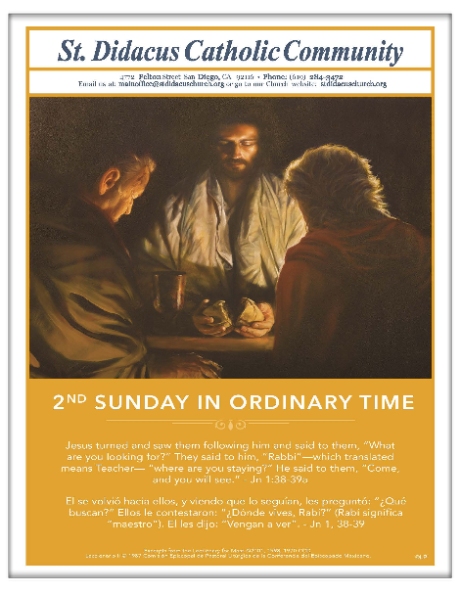 Daily Mass Schedule
| | |
| --- | --- |
| | |
| Monday | 7:30am |
| Tuesday | 6:00pm |
| Wednesday | 8:30am |
| Thursday | 7:30am |
| Friday | 7:30am |
Sunday Mass Schedule
Saturday Vigil

5:00pm

Sunday

8:30am

10:00am

11:30am
(español)
Sacrament Schedule
Eucharisitic Adoration

Wednesday

7:30am - 8:30am

Saturday
First Friday

3:30pm - 5:00pm
8:00am - 9:00am

Confessions

Saturday

3:30pm
& By Appt.
St Didacus Parish School
St. Didacus Parish School is a Catholic elementary school engaged with parents, children and community in the ongoing educational development of the student. We empower the student to be spiritually, academically and socially prepared to live today and tomorrow, both morally and effectively. WASC/WCEA Accredited. Stop by and see us for information about registering your children for the 2017-2018school year!

Mrs. Maria Tollefson - Principal
4630 34th Street, San Diego CA 92116
(619) 284-8730